Congratulations!
We are so pleased that you have decided to make such a rewarding committment and we wish you all the best with your wedding planning and preparation.
As you are here you are probably wondering about getting married at St. Mary's, and the best thing to do is to contact the vicar, Alan (020 8460 1827), who will be delighted to talk with you about the possibilities.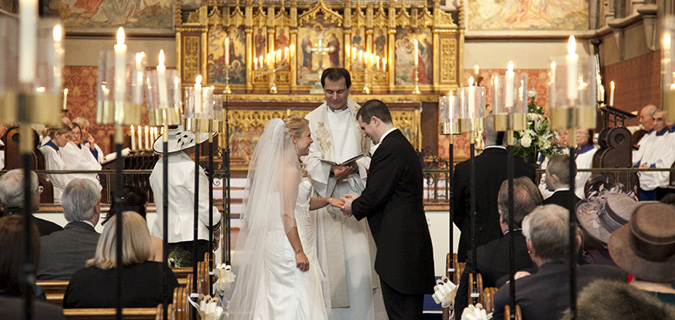 There are various wedding venues to choose from nowadays, but many people still choose to get married in church. Churches are very special places to hold your wedding ceremony, and St. Mary's is certainly no exception. The Church of England wedding website yourchurchwedding.org lists a number of reasons why church weddings are so special, including:
A church wedding will add a spiritual dimension to your marriage. The ceremony includes God and looks to him for help and guidance. God's blessing is the main attraction for many couples, whatever their beliefs.
You can make amazing vows, or promises, in a church. You can only make vows this big in a church. These vows, made in public, will help you to stay together and grow together. God and your church are there for you to help you keep your vows.
The vicar has a very particular role to play in your wedding. They can blend ancient tradition and modern experience to reflect your story. Because of the relationship with the vicar, your wedding can be made personal, memorable, meaningful and beautiful, and you are fully involved in making choices about your ceremony.
Many church buildings offer outstanding beauty and St. Mary's is one of them. The internal decoration is stunning. Come and have a look inside if you haven't seen it before.
Also, as you walk down the aisle you follow hundreds of other couples, some of whom may be your family members, which can feel like you're really part of the history, the bigger picture, in that church and community.
All these things and more can add up to make the day very special.
A church wedding also offers you a lot of support both before and after the wedding. At St. Mary's we offer Marriage Preparation and we support and encourage you after the wedding.
If all this sounds interesting, please give Alan, the vicar, a call on 020 8460 1827 and he will be very pleased to talk with you.
There are some things to be considered for getting married in a Church of England parish church. There are certain residential requirements but these allow for a lot of flexibility, and there are some costs but they are to cover running and administration costs only.
You can find out a lot more information at yourchurchwedding.org. One of the best features is a complete wedding ceremony planner.